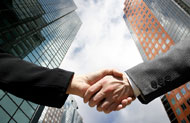 Careers in Commercial Real Estate
F & F Realty develops and manages a prestigious portfolio of properties in Chicago, Illinois and the surrounding suburbs, from leading hotels, conference centers and award-winning restaurants to upscale apartment complexes and assisted living & retirement communities. Learn about opportunities to join the property development and management team at our Skokie, Illinois office. We invite you to contact us now about joining the F & F Realty team.
Video Star Contest
Video Star Contest: Your chance to win first prize of $1000.00, second prize $500.00, and third prize $200.00! We are looking for the most entertaining home videos from our F&F Realty Team.
The video should not exceed three minutes in duration, the content must be family friendly entertainment, and most importantly the F&F Realty Team Member must be in it.
Video submissions will be reviewed by the Star Search Committee, and the winning top ten videos will be entered into the Video Star Contest. The ten videos will be played at the holiday party, and all in attendance will vote live for their favorite. The winners will be announced during the Dancing With The Stars evening event. Best of luck..let the cameras roll!

Select the file on your comuter, and in the description please enter the employee name, and property you work at.




Learn More About Real Estate Development Jobs
F & F Realty
5005 W. Touhy
Skokie, Illinois 60077